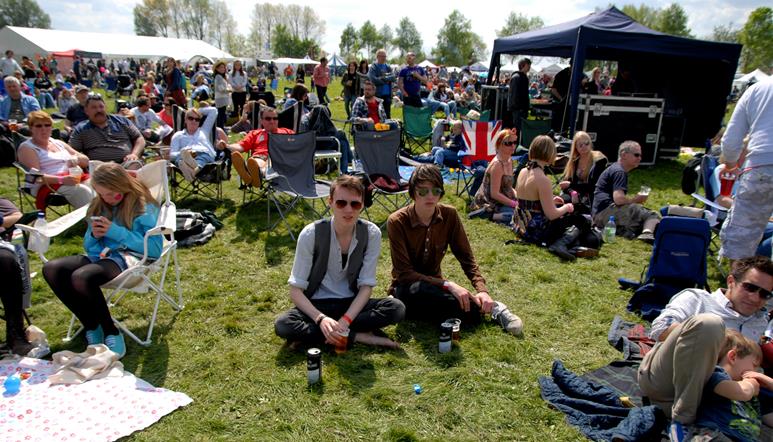 Wychwood Brewery Lined Up as Official Lechlade Festival Partner
Lechlade Music Festival have confirmed Wychwood Brewery will host the main bar stage marquee and supply ales at the 2014 event.
The popular 3 day music festival, held at Riverside Country Park along the banks of the Thames in Lechlade, is heading into its 4th year.
Wychwood Brewery's legendary Hobgoblin ale will be the star of the show, with the bar stage and beer tent re-named 'The Hobgoblin'.
Most famously, David Cameron presented Barack Obama with a dozen bottles of Hobgoblin during the 2010 G-20 Toronto summit.
The President remarked he would drink his beer chilled, as opposed to the optimal room temperature at which strong ale should be drunk.
Now home to both Wychwood and Brakspear beers, the Witney based brewery is established as one of the UK's leading producers of traditionally hand crafted ale and exports to markets worldwide.
"We're excited to have Wychwood Brewery on board," said Festival Director Jennie Rainsford, "a large proportion of our festival-goers come for the real ales. Along with Hobgoblin there will be beers from Ringwood, Brakespear and Jennings. We will even have a Lechlade Festival ale and we'll be running a competition in the next couple of months to name the brew."
This year's event takes place during the May bank holiday from Friday 23rd to Sunday 25th May. Over 80 bands and performers will bring quality live music to the event, along with free family workshops and a burlesque revue. A new 3rd stage is being introduced, housed in giant tipis with a cocktail lounge and bar, along with increased camping capacity and a wider range of workshops.
Early bird tickets are on sale until 31st January, children 16 and under go free.
Find out more at www.lechladefestival.co.uk or www.facebook.com/LechladeFestival or Twitter @LechladeFest
In case you missed it see what's in this section