Name: Lydiard Park
About: Most famous for its House, walled gardens and adventure playground, we're equally as happy just relaxing in the grounds of Lydiard Park. The main lawn in front of the house has a picturesque lake at the foot of it, where you can feed the ducks and take a walk through the woods. You can rent BBQs in certain parts of the year if you want an all-day experience with family and friends.
Top Tip: Let the little ones blow off some steam at the large play area or the aerial adventure centre. The Jungle Cafe is close by for a cup of tea and something sweet!
Directions: Lydiard Tregoze, Swindon, SN5 3PA.
Find out more
Coate Water Country Park
Name: Coate Water Country Park
About: Featuring a huge lake, perfect for rowing, waterskiing, or feeding the ducks, Coate Water Country Park has lots of walks to amble around as well as open spaces for picnics and BBQs. The Park also features mini golf, pitch and putt a children's play area, and a model railway to take a ride on!
Top Tip: This is the perfect spot for walking your four-legged friend! Dogs are welcome all year round, but best to pop them on the lead around the cafe as that's where the hungry ducks, geese and swans like to hang out!
Directions: Marlborough Road, Swindon, SN3 6AA.
Photo Credit: @robwebster84 (Instagram)
Town Gardens
Name: Town Gardens
About: This well-loved Swindon landmark is in the heart of Old Town. Boasting beautiful gardens with lots of trees to sit under on a warm summers day, you'll be able to take in the peace and quiet almost anywhere. Town Gardens is also home to a bowls club, aviary, pond and, of course, a handy cafe.
Top Tip: We absolutely love the bandstand. Perfect for a pitstop and photo-opportunity, there are regular performances to enjoy just as they did in the 1930s!
Directions: Quarry Road, Swindon, SN1 4EN.
Queen's Park
Name: Queen's Park
About: You'd be forgiven for visiting Swindon town centre and having no idea that Queen's Park was there! Such is the nature of this hidden gem of a park in the heart of the town. Built to reflect the "modern informality" of the 1960s, Queen's Park features a large lake as well as lots of open fields which are a favourite haunt of town centre workers escaping the hustle and bustle during their lunch break.
Top Tip: Hidden away by the Drove Road entrance is the Memorial Garden. An idyllic spot to take a nice walk or sit for some quiet reflection among the beautiful natural surroundings.
Directions: Drove Road, Swindon, SN1 3HW.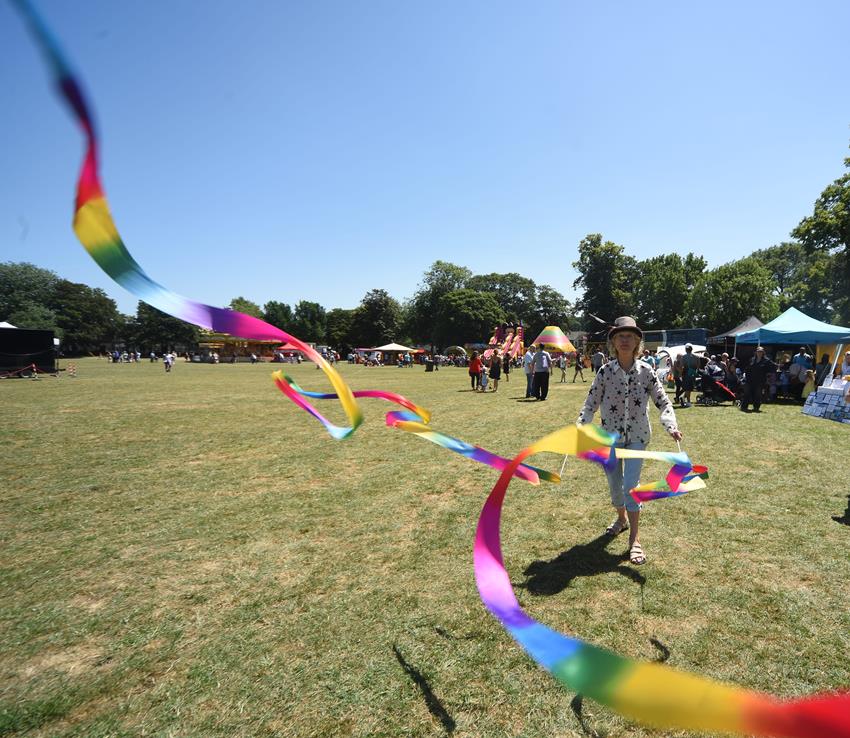 Faringdon Road Park
Name: Faringdon Road Park
About: As part of the Railway Village development to house GWR workers during the mid-1800s, part of the adjacent land was purchased to turn in to a cricket ground, which would subsequently add ornamental gardens, a pavilion, bandstand and glasshouses. In 1904, 38,000 people attended the Children's Fete, an annual festivity that still happens to this day!
Top Tip: Although its Victorian splendour is no longer there, its still the perfect place for a kick about, or any activity where you'd like a bit of room. Why not roll back the clock and have a leisurely game of cricket?
Directions: Faringdon Road, Swindon, SN1 5DJ.
Lawns Park
Name: Lawns Park
About: On the other side of Swindon's Historic Old Town from Town Gardens, sits Lawns Park. There are a number of pathways and trails around the park accessible for all users, as well as woods, ornamental trees, a meadow and a couple of lakes. You'll also have a great view across Swindon from the meadow where you can spot the County Ground, home of Swindon Town FC, and New College as well as much more.
Top Tip: Here is our favourite place to feed the ducks. You might even strike up a conversation with some of the friendly anglers that pop up now and again to make the most of the fishing.
Directions: Old Town, Swindon, SN3 1EH.